Well, here it is...Sunday again. Where did the week go? The weeks are flying by so fast...she will be here before we know it! 10 weeks to go. I better get on the ball...in a serious way!
This weekend was fun. Friday we just chilled here. Saturday we went for a walk in the morning..up to the park. Came home and got ready, then went to lunch with the
McCools
. After that we went to a place called Adventure Landing...it has goofy golf, go karts, batting cages, etc. The kids had a total blast and we wore them out! Last night Mike played poker (hence why I am up at 6 am on a Sunday morning...
GRRRR
). And now it is Sunday! Don't know what we will do today....it depends on the weather I guess. I would like to go up to the neighborhood pool. It is
supposed
to be 90...and hopefully it will be pretty, too! I need some SUN on this white belly!
I have a Dr.'s
appt
, this week...I think Tuesday? It seems like I just went. When you start going every two weeks instead of monthly...the appointments get here before you know it. I am so glad this pregnancy is going so fast. I am DONE being pregnant this time! This is the first time I have been done at this point..usually this is the part that I really enjoy. I must be carrying her weird or something, b/c I am not *that* big...but am very uncomfortable already.
I think I am going to start painting her room this week. I am so excited about that! I am going to do a "beach" theme and I hope it turns out really cute. I ordered a bunch of starfish to "border" the wall and then got a chandelier to hang in her room. So fun doing
girly
stuff!!
Anyway
....short and sweet for today but just wanted to give a
quicky
update. Here is a pic of the boys from this week to leave you with. :)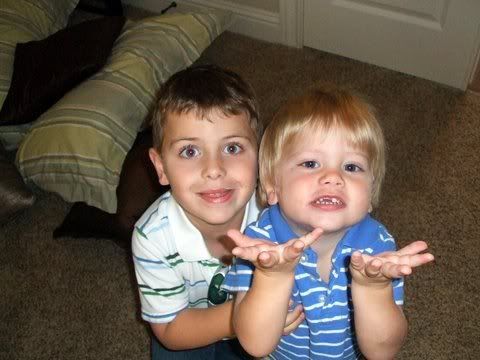 And also one of Jacob and Avery....Jacob's "smile" is so silly....